---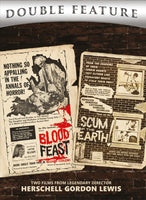 TWO FILMS FROM LEGENDARY DIRECTOR HERSCHELL GORDON LEWIS!
BLOOD FEAST: Dorothy Fremont is looking to throw a party unlike any other, and she gets just that when she hires the decidedly sinister Fuad Ramses to cater the event. Promising to provide her guests with an authentic Egyptian feast, Ramses promptly sets about acquiring the necessary ingredients--the body parts of nubile young women!
SCUM OF THE EARTH: The naïve young Kim Sherwood gets more than she bargained for when she agrees to pose for a shady photographer, and finds herself embroiled in a sinister gang ring who illegally distribute photographs of nude and abused young girls.