---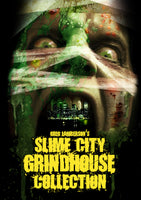 SLIME CITY IS A STRANGE URBAN GRIT OCCULT TALE WITH AN ENDING THAT RIVALS THE THING BUT WITH A $3 BUDGET
A DEADLY NEW COLLECTION OF CULT AND MIDNIGHT MOVIES INCLUDING SPLATTER CLASSIC "SLIME CITY", BY NOTED HORROR DIRECTOR AND AUTHOR, GREG LAMBERSON



Slime City - When Alex (Robert Sabin) and his girlfriend Lori (Mary Huner) move into a New York City apartment, they fall victim to blood-thirsty supernatural forces that transform Alex into a murdering, melting monster...a hideous slime-splattered demon that cannot be stopped!



Naked Fear - When traumatized agoraphobic Camden (Robert C. Sabin) takes in a new roommate - who happens to be both claustrophobic and an orphan - he overlooks indications that Randy may not be what he seems. But then neighborhood lowlifes begin turning up dead. And Julie, Camden's new girlfriend, is convinced there is something very, very off about Randy...





Undying Love - Scott Kelly tried to take his own life. Now he finds himself seduced by a beautiful woman named Camilla who has promised his life will NEVER end! Now hunted by a detective, Scott must decide whether to battle his growing need for blood, or embrace his new unholy existence!





2-DVDs, Three Films, One Mini-Movie, a Collectable Poster and a Shocking Number of Bonus Features!