---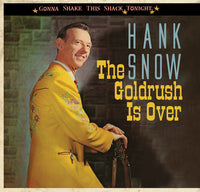 Another incredible release in Bear Family's standard-raising 'Gonna Shake This Shack Tonight' series.
Many of the greatest recordings by one of the top country entertainers of all time... and the man who helped discover Elvis!
Features the original version of I'm Movin' On... the song that stayed at #1 on the country charts for 21 weeks, the longest time ANY song ever stayed on the country charts.

Hank Snow began his career in Dickensian poverty in the Canadian Maritimes during the Depression and ended his career starring at the Grand Ole Opry alongside Garth Brooks and Alan Jackson. Hank Snow recorded more than 800 songs for RCA between 1936 and 1981, and Bear Family hired expert music historian Bill Millar to select the uptempo songs that pointed towards rockabilly and rock 'n' roll.

And so Bill selected all-time classics like I'm Movin' On, The Golden Rocket, The Rhumba Boogie, I've Been Everywhere, I Don't Hurt Any More, and Music Makin' Mama From Memphis, as well as lesser known but equally stellar recordings like The Gold Rush Is Over, Blue Ranger, and classic train songs like One More Ride and Wreck Of The Old 97. It all adds up to a compelling portrait of a man who hated rock 'n' roll, but helped discover Elvis, and made some records whose giddy energy and stinging guitar pointed straight toward rockabilly!


1-CD-Album with 40-page booklet, 30 tracks, playing time 76:57 minutes
More from Bear Family Records

Track Listing
I'm Movin' On

The Rhumba Boogie

Unwanted Sign Upon Your Heart

The Golden Rocket

(Now And Then There's) A Fool Such As I

The Wreck Of The Old 97

Confused With The Blues

Don't Hang Around Me Anymore

Ben Dewberry's Final Run

Blue Ranger

One More Ride

Music Makin' Mama From Memphis

The Goldrush Is Over

Lady's Man

I Don't Hurt Anymore

The Reindeer Boogie

Honeymoon On A Rocketship

Southern Cannonball

Can't Have You Blues

Conscience I'm Guilty

Dog Bone

Hula Rock

Loose Talk

Squid Jiggin' Ground

The New Blue Velvet Band

Tangled Mind

On A Tennessee Saturday Night

I'm Here To Get My Baby Out Of Jail

Miller's Cave

I've Been Everywhere