---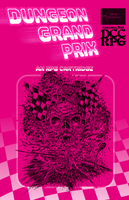 "VROOOOOM. MY NEW DCC SETTING AND FUNNEL IS HERE. DUNGEON GRAND PRIX, GET INTO A KART. OUTRUN OGRES. SLAY THE BONE TYRANT!"
In a world where everything that can be in a kart, is in a kart. Where the smell of motor oil is thick in the air.
Drivers drive to their doom. 
It's not a race. It's an adventure.  (This is important, it's an adventure where everyone that can be in a kart, is in a kart).
Drawing on the absurdity of past legends like "Kingdom Grand Prix" (Sega Saturn, look it up) we dreamt of a world where circuits lead to larger circuits, racers that burn up before that burn out. Where cruel bone giants shout epithets like "race or die" or "nice dolphins, eh?"  
Inside you'll find a new Level-0 Funnel "Bone Giant's Paradise" a wild trek across the the kingdom, over rivers, and with views of alpine mountains. A simple goal: light the 4 beacons. What could possibly go wrong? (You could get crushed by an ogre, burst into flames, flip a kart and explode, be dragged away by bats, take a water balloon to the face and drive off a cliff, honestly there's a lot of ways).
You'll find suggestions on how to adapt a current dungeon or campaign to have Karts. (It even has a reaction and distance table, how else would you dungeon crawl?)
Also there's a 100' tire god, EYE-RBBR… don't ask. (And a trio of Knights on dragon jet-bikes)


Also Featuring 
occupations featuring pit crew, stunt drivers, daredevils, and car enthusiasts! 

armor like helmets and racing plate

Driving rules so you always have a base understand of what is going on

Advanced Maneuvers for those times when you need to drive on 2 wheels or drift around a tight bend.

Class specific driving techniques, did you know Thieves can drive up walls? 

Item crates full of scarabs, jelly, and more fuel! 

A collection of karts, divided by weight (HD) class, magical liveries, and neat upgrades!

11 New Bestiary entries featuring track bats in trendy racing goggles and skeletons whose karts can be turned as undead.

Pit crews you can hire to keep your Kart in perfect condition.

A mess of hazards to throw at your Karts.
Credits 
Writing by Sean Richer 

Editing by Jarrett Crader 

Layout & Cartography by Glynn Seal 

Art (incoming) by Jonathan LaMantia 
More from Orbital Intelligence