---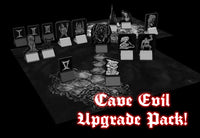 This is a pack containing components to essentially upgrade your first edition copy to the latest standard.
Note: Of course, this is not a stand-alone copy of Cave Evil, it is an upgrade pack ONLY usable to owners of the First Printing. 
Items included:
Die-cut pieces for Squad Markers, Necromancer, Protectors, and Endgames.

Plastic Stands for Di-cut pieces

New Squad Cards on thicker paper

Replacement cards for typo cards and errata oriented cards from the First Printing.