---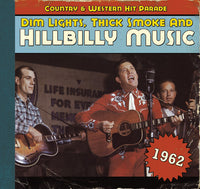 After the volumes covering 1945-1960 were released, the word was out. This series is definitive, fabulously packaged, and faultlessly remastered! In short, everything you'd expect from Bear Family... and more! Jack Clement, who produced Johnny Cash, Roy Orbison, Waylon Jennings, Don Williams, Charley Pride, and many others, said, 'This is the best country series of all time. No doubt. No question. ' Robert Hilburn in the 'Los Angeles Times' said, 'An invaluable album project... enables fans to step back in time and listen to the radio just like Elvis Presley, Ray Charles, and Bob Dylan did. ' Producer Allen Reynolds (Garth Brooks, Emmylou Harris, and many others) stopped Bear Family's Richard Weize at the Country Music Hall of Fame to congratulate him on the series.
Now the story continues from 1961 until 1965. Every CD is generously full. Every booklet is extensive and chocked full of rare photos and illustrations, as well as complete stories behind the songs! In addition to the hits, the series contains rarities that went on to influence country music... and all music... in the years ahead. This series is designed to introduce new listeners to the very best that country music has to offer... while keeping longtime fans entertained. Every volume is a fabulous time capsule. This is the music that influenced the White Stripes, Gillian Welch, Gram Parsons, Nick Cave, and many, many others. This is the music that gave birth to California country rock. This is the music that influenced the Beatles and many other seminal bands. In other words, this is the true and uncensored history of country music. Everything you need to hear, year-by-year, as it happened!
Picking up the story in 1961 and continuing until 1965, this new batch includes original versions of classic hits and also includes neglected classics and shoulda been hits like Claude Gray's I'll Just Have A Cup Of Coffee...
1-CD-Album deluxe with 72-page booklet, 31 tracks. Playing time approx. 82 mns
Track Listing
Lambert, Gloria - IÆve Been Everywhere

Snow, Hank - She Thinks I Still Care

Jones, George - Wolverton Mountain

King, Claude - SheÆs Got You

Cline, Patsy - Lonesome Number One

Gibson, Don - A Wound Time CanÆt Erase

Jackson, Stonewall - Devil Woman

Robbins, Marty - Mama Sang A Song

Anderson , Bill - The Ballad Of Jed Clampett

Flatt & Scruggs - (LoveÆs) Ring Of Fire

Carter, Anita - My Name Is Mud

Oægwynn, James - Another Day, Another Dollar

Stewart, Wynn - So Wrong

Cline, Patsy - Pride

Price, Ray - Misery Loves Company

Wagoner, Porter - DonÆt Go Near The Indians

Allen, Rex - Charlie's Shoes

Walker , Billy - DonÆt Let Me Cross Over

Butler , Carl - Success

Lynn, Loretta - From A Jack To A King

Miller, Ned - Touch Me

Nelson, Willie - Sally Was A Good Old Girl

Cochran, Hank - A Girl I Used To Know

Jones, George - KickinÆ Our Hearts Around

Owens, Buck - Crazy Wild Desire

Pierce, Webb - Adios Amigo

Reeves, Jim - Ruby Ann

Robbins, Marty - That's My Pa

Wooley, Sheb - PT 109

Dean, Jimmy - Release Me

Phillips, Little Esther - I've Been Everywhere (original Australian ver