---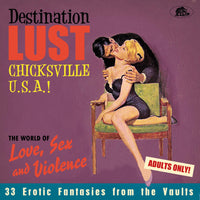 A crazy compilation of the most beautiful 'minor matter' in the world: love, sex and all its varieties!
Rare and interesting things at a spectacularly low price as part of the 'Destination' series on Bear Family.
Welcome to 'Chicksville U.S.A.'! We present more than 30 historical-erotic jewels, pleasurable items from the 1950s and 60s!
What would 'Chicksville U.S.A.' be without the movie goddess Marilyn Monroe and her fellow artist Jayne Mansfield!
There are also plenty of 'bombshells' from the music scene of the time: Pat Morrissey, Kay Martin, Dorothy Collins, Dinah Washington and two rarities from Frances Day as Gale Warning!
Concentrated femininity creates wordless men: burlesque instrumentals by Sam 'The Man' Taylor, Barney Kessel and the Upsetters are the answer.
Hits and rarities are combined here, many for the first time on CD!
The richly illustrated full-color booklet contains song-by-song notes by Marc Mittelacher.
Eroticism and sexuality was officially not an issue in the first decades after the war. But unofficially, behind closed doors, in dark, smoky clubs, strip joints, and under the counter, they let it all hang out. They did it just as wildly as today, but not as obviously. They preferred to sing about it rather than talk about it behind closed doors, because music seemed to be more harmless, although these recordings show the opposite.
The erotic-slippery journey towards lust continues! Erotic voices, such as those of Pat Morrissey, Cleo Laine, Mabel Scott and of course Marilyn Monroe and Jayne Mansfield, make you want more. With so much concentrated femininity the men are left without words, and Sam 'The Man' Taylor, Barney Kessel and Little Richard's accompanying band The Upsetters respond with burlesque instrumentals. Dinah Washington sings ''the thing'' to her boyfriend and Big Jay McNeely answers with 'Man Eater'.
1-CD with 16-page booklet - 33 Tracks - Total playing time approx. 79:00 min.
More from Bear Family Records
Track Listing
Jimmy Gray - Chicksville U.S.A.




Barney Kessel - Honey Rock

Betty Dickson - Shanty Tramp

Debby Moore - I Get A Feeling

Marilyn Monroe - I Want To Be Loved By You

Dinah Washington - Big Long Slidin' Thing

Big Jay McNeely - Man Eater

Bill Darnel - Sixty Minute Man

Dorothy Collins - Let's Do It

Cleo Laine - Let's Slip Away

Felix & His Fabulous Cats - Hey Tiger

Mabel Scott - Yes

Gale Warning (Frances Day) - Met Rock

Diane Maxwell - Love Charms

Pat Morrissey - Trapped In The Web Of Love

Berlingeri & His Orchestra - Lolita

Hermanas Serrano - Casanova

Jeri Southern - Senor Blues

Ken Kash Kwintet - The Dig

Johnny Wright - Look At That Chick

Gale Warning (Frances Day) - Heartbreak Hotel

King Rock & The Knights - Scandal

Lincoln Chase - Sweet Torture

The Spinners - Slave Chain

Que Martin & His Band - Work With It

Kay Martin & Her Body Guards - Fever

Felix & His Fabulous Cats - Savage Girl

Ruth Wallis - Man, It's A Jungle

Sam 'The Man' Taylor - Man, That's Choice

The Upsetters - The Strip

Jayne Mansfield - Too Hot To Handle (Film Version)

Roy Young - Taboo

Peter Jay & The Jaywalkers - Can-Can '62