---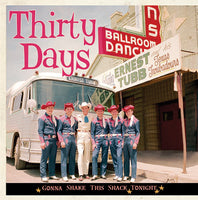 A fresh slant on the king? the originator? of honky tonk music!A full CD of his up-tempo recordings, including era-defining hits like Walking The Floor Over You, You Nearly Lose Your Mind, and Drivin' Nails In My Coffin. The next best thing to a night at a Texas honky tonk circa 1950?minus the guns and cigarette smoke!

Ernest Tubb's life was a catechism in what it once meant to be a country star. He took his music to isolated townships and he'd stand outside the dance hall in bone-chilling cold or stifling heat until every autograph had been signed, every hand shaken, every photo snapped. That was the old way. That was the E. T. way.

These recordings ooze character and believability. Ernest Tubb's voice wavers off-key here and there, but the gritty realism and human warmth more than compensate. Ernest Tubb made records that could only be Ernest Tubb records. The contrast with the cookie-cutter similarity and artificial perfection of today's country music could not be more obvious. ''I don't read music,'' Ernest Tubb once said, ''and I'd fight the man who tried to teach me. I don't care whether I hit the right note or not. I'm not looking for perfection. Thousands of singers have tried that. I'm looking for individuality. I sing the way I feel like singing at the moment. I never sang for the dollar. I sing because I want to sing.''

Ernest Tubb bridged the pre-War music of Jimmie Rodgers and the post-War world of the honky tonk and the Nashville Sound. These are some of the finest songs of the time, songs that literally ushered in the post-War era in country music.

1-CD-Album with 30-page booklet, 30 tracks, playing time 77:18 minutes
More from Bear Family Records

Track Listing
Thirty Days

I'm A Long Gone Daddy

Mean Mama Blues

Jimmie Rodgers' Last Blue Yodel

Walking The Floor Over You

I Ain't Goin' Honky Tonkin' Anymore

Filipino Baby

So Round, So Firm, So Fully Packed

My Tennessee Baby

You Nearly Lose Your Mind

Tomorrow Never Comes

Tennessee Border #2 (& Red Foley)

Drivin' Nails In My Coffin

So Doggone Lonesome

Let's Say Goodbye Like We Said Hello

Don't Forbid Me

Don't Brush Them On Me

The Same Thing As Me

Counterfeit Kisses

Two Glasses, Joe

Kansas City Blues

Have You Seen My Boogie Woogie Baby

This Troubled Mind O'Mine

My Hillbilly Baby

I'll Get Along Somehow

Do It Now

Mister Blues

White Silver Sands

Crazy Arms

Tennessee Saturday Night