---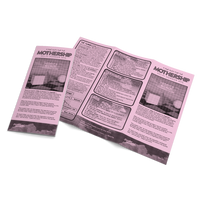 Hideo's World is the second Mothership Pamphlet Module. It's formatted like a double sided tri-fold brochure and contains all the information you need to play an excellent one-shot.

A fully playable, ready-to-run one shot to drop in to any sci-fi RPG campaign

A fully developed "slickworld" filled with bugs, glitches, textures, and ads.

An overworld map and 8-room level.

An audio file to use as in-world background music -- hear the song that's playing in the location the characters are in!

Printable BW version of the file, ready to be printed and folded or ran right from your home computer.
This adventure is suitable for characters of any level in a survival horror setting and is sure to pose a challenge to even the most battle hardened party.
Written by D G Chapman (GoGoGolf!, Bastard Magic, The Graverobbe's Guide) with layout by Sean McCoy (Mothership, Dead Planet, A Pound of Flesh).