---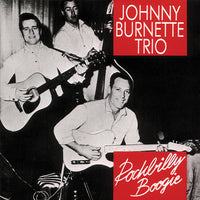 For foaming-at-the-mouth rockabilly nothing will ever beat The Rock 'n' Roll Trio: Johnny Burnette (vocals, guitar), Dorsey Burnette (vocals, bass), and Paul Burlison (guitar).

This collection of tracks, recorded during the trio's brief career in 1956/57, contains some of the rawest, purest rockabilly ever recorded. None of the songs was a national hit. But Train Kept A Rollin', Lonesome Train On A Lonesome Track, All By Myself, and the title track itself, every one is dynamite. Genre classics, reissued in their entirety in premium sound quality for the first time on this CD!

''Rockabilly Boogie'' includes a 32-page booklet featuring photos, extensive liner notes by Colin Escott, and a discography. A few rare alternate takes and family photos round out the story. As raw, primitive and exciting as rockabilly ever got. Essential!
1-CD with 32-page booklet, 28 tracks. Playing time approx. 64 mns
More from Bear Family Records
Track Listing
Rockbilly Boogie

Please Don't Leave Me (alt.)

Rock Therapy

Lonesome Train

Sweet Love On My Mind

My Love, You're A Stranger

Your Baby Blue Eyes

I Love You So (alt.)

The Train Kept A-Rollin'

All By Myself

Drinking Wine Spo-Dee-O-Dee

Blues Stay Away From Me

Honey Hush

Lonesome Tears In My Eyes

I Just Found Out

Chains Of Love

Please Don't Leave Me

Lonesome Train (alt.)

I Love You So

If You Want It Enough

Butterfingers

Eager Beaver Baby

Touch Me

Tear It Up

Oh Baby Babe

You're Undecided

Midnight Train

Shattered Dreams