---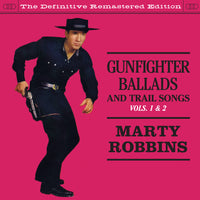 This quintessential release features Marty Robbins' most celebrated album, originally issued on the Columbia label: Gunfighter Ballads and Trail Songs (1959). With his cowboy albums, Robbins helped keep western music alive during the late '50s and early '60s, and the warm, affectionate spirit of this music illustrates why.

Here you will find such country favorites as "El Paso," "Big Iron" and "Cool Water," as well as classic versions of "Streets of Laredo" and " Billy the Kid," among other western standards. These songs are about work, love, travel, death, the beauty of the American West, and living life on your own terms(and paying the price for it). Robbins' subject is mostly the West of myth and movie, which benefits from his ability as a storyteller - most of the tracks may tell tales heard or seen 100times onscreen, but he makes listeners feel like this is the first time they're hearing them, creating the excitement and anticipation of a poet in the middle of a spellbinding recital.
2 lp's on 1cd, 4 bonus tracks, 16-page booklet, rare photos, vintage memorabilia, detailed liner notes.