---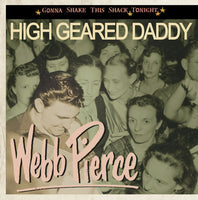 Godfather of rockabilly and king of the honky tonks, Webb Pierce was the biggest country star of the 1950s! His look alone defined hillbilly glitz and glamor!Bear Family features an exclusive compilation of uptempo songs from Webb Pierce's earlier years, featuring Four Star recordings like High Geared Daddy, Heebie Jeebie Blues, and New Panhandle Rag, as well as Pacemaker performances (Roy Acuff's Freight Train Blues, Hayride Boogie, and Have You Ever Had The Feeling) PLUS uptempo early Decca recordings including hits (In The Jailhouse Now, Love, Love, Love, Honky Tonk Song, Bye Bye Love, Tupelo County Jail and I Ain't Never) and rarities like You Scared The Love Right Out Of Me, Any Old Time, and New Raunchy. Highlights include Webb Pierce's rarely-heard rockabilly version of Teen Age Boogie, with a rawer arrangement, previously only issued in England in 1956. A new essay writen by Rich Kienzle.

Webb Pierce was flashy. A Louisiana Hayride star, he replaced Hank Williams on the Grand Ole Opry in 1952. Of his 96 charted singles, 13 were # 1s and 39 others were Top Tens. While living the hard-boozing honky tonk life he sang about, Webb Pierce also made a fortune publishing songs and owning radio stations. But his scorched earth business style made enemies, and consequently, he didn't enter the Country Music Hall of Fame until 2001, ten years after he died. The whole story is here together with some of the shakin'est music that Webb Pierce ever recorded.

The 32 performances on this 'Gonna Shake This Shack Tonight' collection cover eleven years (1949-1959) and three labels, Four Star, Pacemaker and Decca.


1-CD-Album with 36-page booklet, 32 tracks, playing time 76:28 minutes
More from Bear Family Records

Track Listing
High Geared Daddy

New Panhandle Rag

Heebie Jeebie Blues

Georgia Rag

Freight Train Blues

Hayride Boogie

Have You Ever Had The Feeling

Drifting Texas Sand

You Scared The Love Right Out Of Me

I'm Gonna See My Baby

I Just Can't Be True

California Blues

In The Jailhouse Now

Sneakin' All Around

Love, Love, Love

Why Baby Why (& Red Sovine)

Any Old Time

Teen Age Boogie (2)

I'm Tired

Honky Tonk Song

Bye Bye Love

Who Wouldn't Love You

Holiday For Love

The New Raunchy

English Sweetheart

You'll Come Back

Tupelo Country Jail

After The Boy Gets The Girl

Pick Me Up On Your Way Down

I Ain't Never

Teenage Boogie (3)