---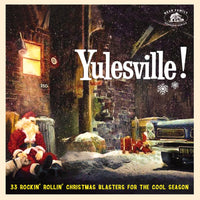 Rare and interesting recordings at a reasonable price within Bear Family's Seasons series. The selected titles are more about Christmas on the Mother Road 'Route 66' with a hearty Christmas cactus, but also the peaceful winter wonderland is not missed out here! Besides big names of Rock'n'Roll, like The Drifters with Clyde McPhatter, Paul Anka, The Penguins and The Four Seasons, there are plenty of rarities to be heard, many of them for the first time on CD!

Rebellious Christmas in Yulesville!
Christmas is generally regarded as the feast of love, even if Christmas is not always beautiful for everyone. The Rock'n'Roll contemporaries of the 1950s already recognized this when they tried to break out of established family traditions. The songs in this compilation represent both opposites sharply to each other. On the one hand Paul Anka's It's Christmas Everywhere, with all its lights and snowflakes, but Bobbie & Boobie keep it cool with their Cool, Cool Christmas. And in-between Patti Page's Santa Claus dances the boogie woogie and Edd 'Kookie' Byrnes teaches us the Christmas time under the Beatniks!

Christmas Parade of Rarities
Of course, part of the concept is to focus on rare recordings. Recordings that are not to be found on every Christmas collection, which is admittedly not that easy. But we found what we were looking for and can even present a number of songs that haven't been available on CD before. For example a complete single from the Doo Wop section of The Melodeers! Very rare, and the single A- and B-sides by Cordell Jackson can also be heard, a female rockabilly guitarist and head of the Moon label from Memphis, in contrast to Memphis' famous Sun label (Moon - Sun!). Many Rockabilly and Blues hits are featured, even some jazzy titles. It's well worth it again! Naturally there are also notes to each song on the CD, as well as many illustrations in the 28-page booklet!

More from Bear Family Records


Track Listing
- Intro (radio commercial)

Cordell Jackson - Be Boppers' Christmas

Allan & The Flames - Winter Wonderland

Three Aces & A Joker - Sleigh Bell Rock

The Melodeers - Rudolph, The Red Nosed Reindeer

Bobbie & Boobie - Cool, Cool Xmas

Patti Page - Boogie Woogie Santa Claus

Santo & Johnny - Twistin' Bells

Dodie Stevens with Milt Rogers & His Orchestra - Merry Christmas Baby

Edd 'Kookie' Byrnes - Yulesville

Barry & The Highlights - Xmas Bell Rock

Little Joey (Sonny Bono) - Comin' Down The Chimney

Barbara Mann - All I Want For Christmas Is A Steady Eddie

Augie Rios - Dónde Está Santa Claus' (Where Is Santa Claus')

Tommy Lee & The Orbits - Jingle Rock

Little Joey Farr - Big White Cadillac

The Drifters with Clyde McPhatter - White Christmas

Kerry Adams - Lonely Christmas

Linda Laurie - All Winter Long

The Bookends & Ray Anthony - Christmas Kisses

The Penguins - Jingle Jangle

The Melodeers - Wishing Is For Fools

Cordell Jackson - Rock And Roll Christmas

Lightnin' Hopkins - Happy New Year

The McGuire Sisters - The Cactus Christmas Tree

The Uniques - Rock'n Rudolph

The Four Imperials - Santa's Got A Coupe De Ville

The Four Seasons - I Saw Mommy Kissing Santa Claus

Dee Dee Ford - Good Morning Blues

Paul Anka - It's Christmas Everywhere

Little Joey Farr - Rock'n'Roll Santa

Dinah Washington - Silent Night

Huey 'Piano' Smith & The Clowns - Happy New Year